Ain't No Party Like an LC Party!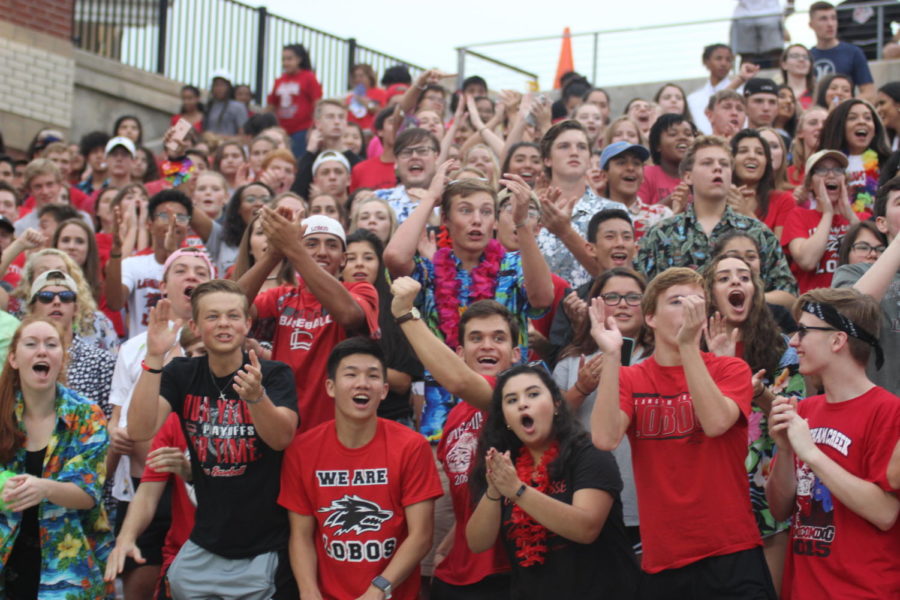 Gaby Assaf, Reporter
October 24, 2017
The bright red streamers soared through the air, bold eye black smeared underneath the eyes of fans, and roaring chants were heard throughout the entire stadium showed not only the student section's dedication and effort put into these games, but the school pride they all possess.
In the large student section, a diverse amount of students participate within it.  Whether you're in a different class or involved in different activities, the student fanbase accommodates and provides a sense of belonging for everyone.
"Being a part of the student section is important to me because it makes me feel unified with my friends and I feel like us cheering gives us motivation to win," junior Miles Bibbins said.
With that said, there are some friendly rivalries between the grade levels. Each class strives to be the most supportive for the teams and are always trying to outshine one another.
"The seniors are best dedicated to the student section because we show up the earliest and cheer the hardest," senior Jake Swain said. "We give the best ideas and we go all out for games." 
Also, the competitions located in the student section betters the fanbase by not only allowing more ideas to be spread to promote improvement, but cheering louder and creating new chants. With new cheers and inspirational chants, it encourages the athletes who are playing on the field or court to perform better.
"The student section really motivates me during games. There's nothing like the screams of the crowd when I kick the ball," sophomore varsity kicker Everett Ornstein said.
Not only are there competitions between the classes, but with other school's student sections as well. With each school setting forth their best efforts and spirit, it presents the idea of which school has the best fanbase.
"We definitely have the best student section in CFISD because the hype and energy translates from the stands to the field. Also, we contribute to every win langham gets," sophomore Ethan Walls said.
In whole, the student section displays the immense amount of pride the students have for their school. The cheers and dedication that is present within the fanbase shows unity, passion, and spirit that all students express not only as a family, but together as a pack.