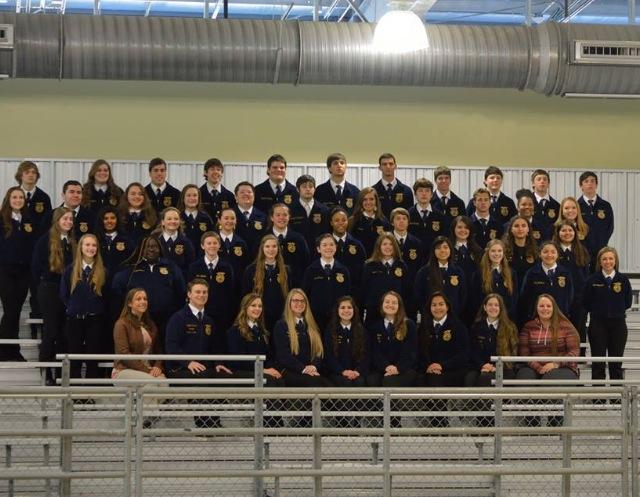 FFA attended the CFISD Livestock Show once again hosted annually at the CFISD Exhibit Center from February 4th-6th. After months of hard work, money, and time put into their multiple projects ranging from livestock animals including; swine, goats, lambs, sheep, steer, poultry and rabbits to handmade furniture and trailers in the ag mechanics contest and even the introduction of the brand new horticulture show, student's hard work truly paid off during these long days of show.
"I raised a pig and a goat which taught me that having two animals is a chore of a task but it taught me major responsibility," sophomore Hunter Huntsman said.
About 700 students from every school in the district met at the Telge Barn on Wednesday night to unload their animals from trailers transported from their individual school barns, weighed them and settled them into their temporary show pen.
Goat, lamb, steer and poultry exhibitors showed their animals around the ring on Thursday morning making sure to flaunt the healthy parts of their animals to the crowd and more importantly, the judge. Langham Creek senior, Maddie Hightower took Reserved Champion in the goat division and Senior Jocelyn Sanchez took Reserved Champion Lamb. Many other Langham exhibitors were able to place with their animal as well and sell for big money at the live auction.
"My goat got 17th overall and 4th in class then sold to the Donaldson Family for $700 in the live auction," FFA President Michelle Schulz said. Swine, rabbit, and horticulture exhibitors displayed their projects on Friday. While no Langham Creek students took grand or reserved, many were able to sell for good amounts of money in the Freezer Sale to local businesses and families including Houston Livestock Show and Rodeo, Ace Hardware and Clay's Restaurant.
"[My pig] didn't end up placing but she did better than I thought she would," junior Pig Exhibitor Kristen Baker said. Through FFA, these students have learned responsibility and time management as they learn to raise and maintain care of their living projects and put months of hard work into their welding and plant projects.
"[FFA] has caused me to become a leader, learn accountability and become closer to members in the program. It has also taught me how to care for animals, how to manage my time and how to be responsible," sophomore Rabbit Exhibitor Jocelyn Mata said.