National Signing Day Story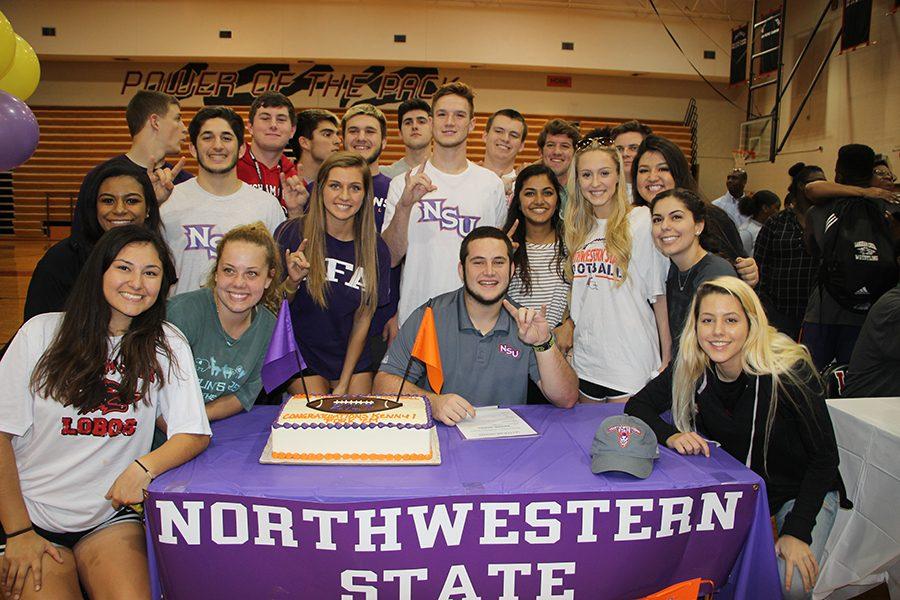 Seven athletes signed their National Letters of intent to their respective colleges this past Wednesday.  Together with their friends, family and Coaches, they celebrated their great accomplishments.
"It's great…I've been working for it since I was little," Kenneth Sheldon said.
Chidi Ogbonnya celebrated a football scholarship to Baylor with his friends and teammates, making them proud.
"That's what it's all about…you want to send your children to college," Mr. Ogbonnya said.
The signing inspired others too.
"It's good, it's exiting, it keeps me motivated," Carrington Matthews said.
Two of his teammates also signed, with Dondrick Collins signing with Tyler Junior College, and Kenneth Sheldon signing with Northwestern State University.
"It's very satisfying, and exiting… I'm excited to see what they do in college," Coach Thompson said.
The soccer program was well represented with 3 girls signing their letters of intent, with Brittany Harris, Jade Dewbre, and Sara Batiste signing with Lamar University, Angelina College, and Prairie View A&M University respectively.
"It's a great accomplishment…they all deserve it…I'm thankful to be a part of it," Coach Bueno said.
The final Lobo to sign was Samantha Martinez, a softball player who signed with Prairie View A&M.
In the end, 7 Lobo athletes will have the opportunity to compete at the next level, while getting an education, which provides a bright future for them and their families.
"I'm blessed, truly exited…I get to play in college," Dondrick Collins said.