A Night to Remember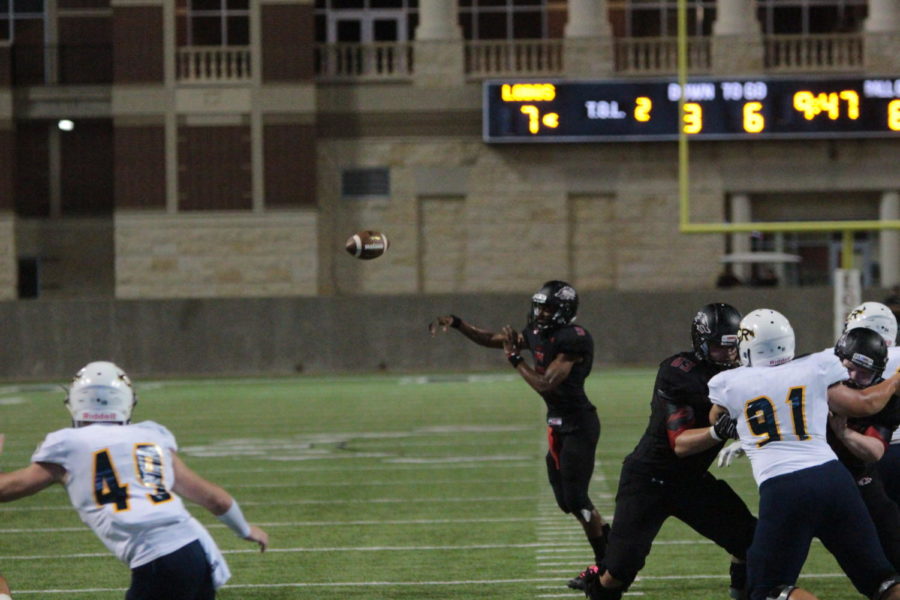 The student section roared, rocking the stadium, their faces painted black and red, fired up for the biggest game of the year…and the starting quarterback wasn't taking the field.
On Homecoming night, starting quarterback Chris Herron was held out due to injury. Control of the offense fell on Senior Captain Nick Ojonta.
"I wasn't too nervous… the coaches just told me to do my job and be a leader," Ojonta said.
Ojonta got the offense off to a hot start driving right down the field, scoring just over 2 minuets into the game.
"That got me really pumped," Ojonta said.
As the game continued the offense stalled, inconsistently moving the ball, only adding a field goal to their lead.
"I felt anxious and just wanted to get the next play in," Ojonta said.
Towards the end of the half, the offense came up big with a long touchdown pass sparked by the once back-up quarterback.
"It was big … my confidence was soaring through the roof and I was just playing my game," Ojonta said.
With a 17-7 lead heading into the half, Ojonta and the offense were confident.
"The Coaches told me I was doing a great job and I just needed to keep doing my thing… we felt like we had the game in the bag," Ojonta said.
Mid-way through the 3rd quarter Ojonta made a play that left teammates and fans alike speechless, in which he shed a sure sack and fired a pass down field to Ahmad Young for a huge gain down the sideline that set up another score.
"It was really supposed to go to the left, but big number 94 was on my back, and my squat helped me out. I hit Ahmad and he was just flying down the sideline," Ojonta said.
Finally in the 4th quarter with the game in hand the senior back-up quarterback took a knee to ice the game.
"It was really exiting seeing all the students and parents just going crazy, it was a great feeling," Ojonta said.
In the end Ojonta led the team to victory finishing with 2 touchdown passes. It was a performance that he will not soon forget.
"I'll never forget it; it's something I will be able to tell my great-grandkids about.