5 Lobos sign to play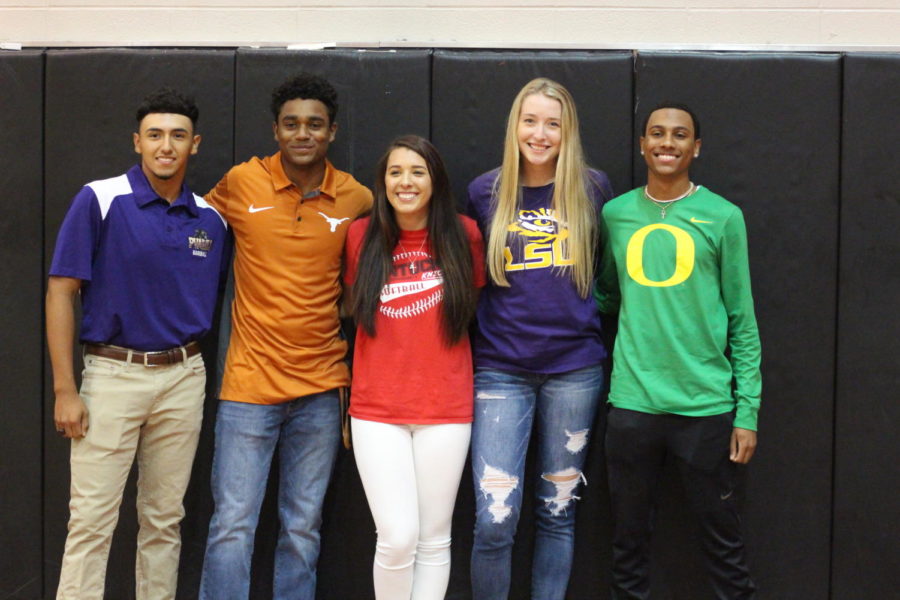 "It's the best feeling… it's truly a blessing," senior Eric Edwards said.
Signing day is an emotional and memorable day for many athletes across the country, and for the 5 student athletes at Langham Creek, it was a day they will never forget.
Korey Holland signed with the University of Texas on a baseball scholarship, making his family proud.
"It's a dream come true… it's something he's worked hard for for a long time and it's good to see it happen," Mr. Holland said.
Along with Holland, his teammate Alex Martinez signed with Prairie View A&M.
"It's exciting… baseball teams are looking for good players to play and I think I can help them out," Martinez said.
Holland and Martinez's signings made their coach proud.
"As a coach you're just happy that they get to live a dream," Coach Sedaño said.
Whitney Foreman represented the volleyball program signing with LSU.
"It was better than I thought it was going to be," Mrs. Foreman said.  "She is an amazing young lady who I couldn't be prouder of."
Reigning State Hurdle champion Eric Edwards signed his letter of intent to Oregon, with more than just college on his mind.
"It's track-town USA, they have the Olympic trials there… my hope for the future is to make it to the Olympics," Edwards said.
Lastly, softball player Bianca Gries signed with Kentucky Christian University after falling in love with the universitie's atmosphere.
"It's a Christian school… the whole school is very family oriented, and I know that they will take care of me," Gries said.
These students will now head on to face new and welcome challenges at their universities because of the hard work they and their coaches have put in.
"There's still a lot of hard work in front of them, but at least they have those opportunities," Sedaño said.