Tunes Review: KOD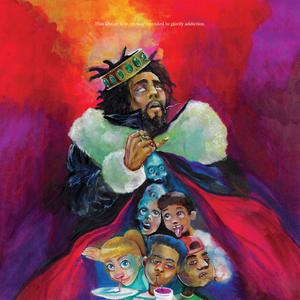 Hang on for a minute...we're trying to find some more stories you might like.
J Cole's fifth studio album, KOD, has made a sudden large splash in the R&B pool. The album had only four days of build up before Cole dropped it on April 20th, 2018. The release of  the album was announced by Cole in a tweet on April 16th saying "New album. KOD 4/20." To say the absolute least, fans freaked. Since J. Coles album 2014 album, 2014 Forest Hills Drive, Cole has created a pattern of releasing albums two years apart, but KOD was released 8 months before the speculate release time.
Cole is a man who needs hardly any introduction, but in case you've been living under a rock, here's a run down. In 2007 Cole put out his first mixtape  The Come Up and has done nothing but rise as a superstar ever since. After The Come Up, Cole signed onto Jay-Z's record label Roc Nation as the first signee. Cole then released five mixtapes before gearing up to dropping his first studio album, Cole World: The Sideline Story. Cole now has his own record label, five studio albums out, and one on the way.
The album KOD address several social issues, but the most prevalent one appears to be the damage drugs can have on a person's life. The theme of the album is most obvious on the track FRIENDS, where Cole suggests that drug addiction can be blamed on many things in society including fatherless homes, influence of trap music, and corruption within the political system. However, instead of supporting the use of drugs to suppress emotions that build up, Cole suggests simply meditating to relieve stress and clear your mind. "I understand this message is not the coolest today… meditate, don't medicate".
As a J. Cole fan, I would give the album an 9/10. The album definitely gave vibes of his 2009 mixtape The Warm Up, letting old fans know that he's sticking to his roots while embracing and exploring different sides of Hip-hop and R&B.