Knowing Nasr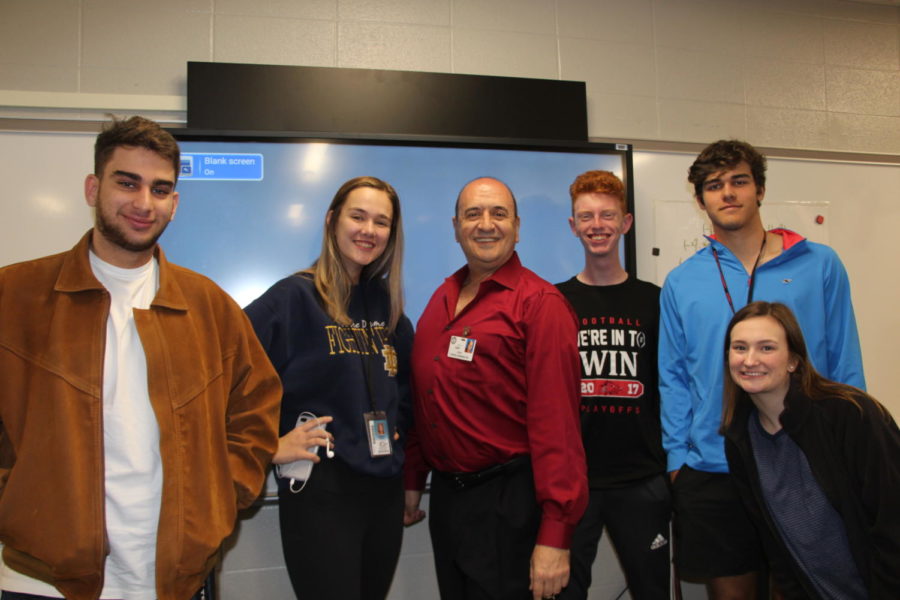 Math teacher Afif Nasr is no ordinary teacher. From owning a motorcycle, to speaking three separate languages, and even claiming to be one of the best gamblers around there's no question as to the impression he leaves on all his students.
But Mr. Nasr is also a special teacher in a different way, for he sees all his students as new and unique challenges.
"From the first week of school to the last week of school it's all about finding what their strengths are and teaching them to use those strengths, " Nasr said. "This is my challenge."
You'd think this one of a kind outlook would come from one's own childhood experiences. However, as a child growing up in the small town of Monsef, Lebanon, Nasr has a very different life than most teens today.
"We followed the rules and never questioned why we had to do things," Nasr said "We had a lot of homework and if we misbehaved, not only did we get punished by teachers but also by our fathers when we got home. It was so different than it is now".
And with no role models in school to learn from, young Nasr put all of his learning second to fun. Before he had the chance turn things around his town fell victim to the horrific warfare occurring all over Lebanon.
"There was a terrible civil war when I was in high school. During my junior year all schools shut down, so I had to leave and go to France to finish," Nasr said, "I was very smart, but I didn't have teachers to guide me and I didn't make too many good choices".
So as an adult, Nasr decided that he'd change his overall approach to teaching. His goal? To give students a better way to learn and a better way to retain information.
"I can't memorize stuff. You would think that teaching the same subject for 11 years you would memorize the formulas but I can't," Nasr said, "I teach so that it's okay if you can't memorize something. I make the formula make sense and I teach them how to drive it so they can pull it out of their memory anytime".
He may not be able to memorize equations, but ask any of his students and they will tell you that Nasr is gifted when it comes to playing cards.
"My hidden talent is cards, I count cards," Nasr said, "So whenever I play cards with anyone I always win and I never gamble because it's not fair to other people if I gamble".
Indeed, to students amazement, all teachers including Nasr live separate lives outside the school's classrooms. In fact, a typical Saturday night for Nasr includes spending lots of time with his family and making memories with his new grandbabies.
"We try to either babysit the kids so mom and dad can go out or me and my wife, we don't have any kids at home anymore, we try to go every Saturday somewhere," Nasr said. "So half the Saturdays we go out half the Saturdays we just stay home and rest we get so tired".
However, when the weekends end and that weary mindset follows one into the week, even Nasr will admit that he makes mistakes.
"The most embarrassing thing in class is when I make a mistake and I don't realize right away," Nasr said. "Someone starts saying 'oh that doesn't look good' and I argue with them that it does and then five minutes later 'uh oh hang on a second you are right and I am wrong'".
But it math isn't the most import thing in Nasr's classroom. He believes that even if pre-calculus isn't what you take away from his class; he wants every student to leave his classroom at the end of the year feeling a little more confident than when they entered.
"It is not really how smart you are, there is no such thing as smart and not smart," Nasr said, "At the end of the year, I want my students to respect everyone and have fun in everything they do. I want them to be strong, independent thinkers, trust their own judgments and not to let anyone control their thinking. And of course I hope by the end of the year, they will learn to love math too."