Five Athletes Sign to Southwestern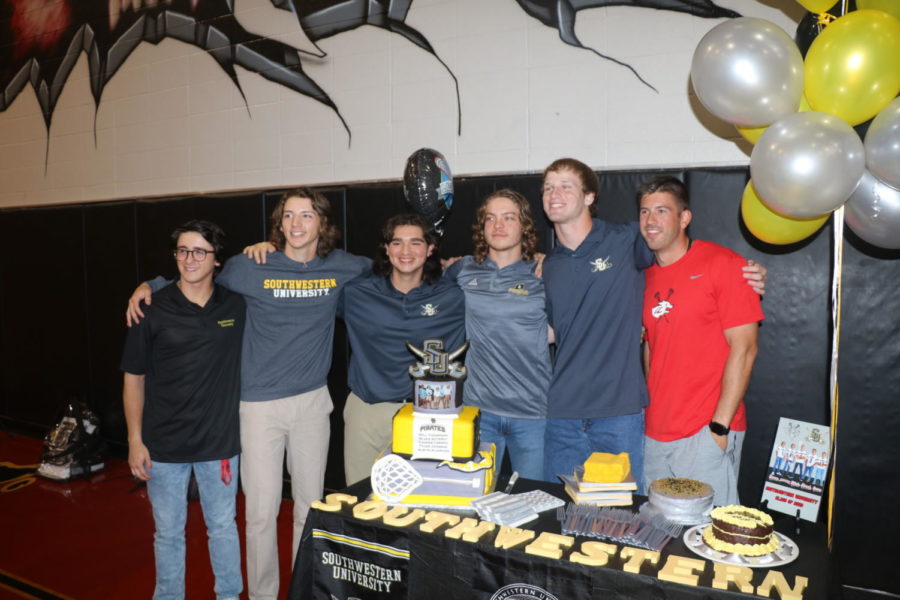 April 18, National Signing Day. Every school year students sign letters to their chosen colleges to advance in their athletic and academic capabilities. This past signing day Blake Sitterly, Cooper Crespo, Tyler Johnson, Will Thompson, and Austin Alvarado all signed with Southwestern University to play NCAA Division 3 Lacrosse.
Blake Sitterly came across Southwestern playing a few years ago for a tournament. His parents mentioned that there's a school that has a lacrosse team and he looked more into it and thought it was the best fit for him.
"The fact that I'm going to be able to play NCAA Lacrosse this close to home, there's not a whole lot of options when it comes to that. It was a big reason I chose Southwestern," Sitterly said.
Cooper Crespo had a chance to go up to Southwestern to hangout with all the teammates to bond with the team and had a chance to explore the dorms to get a feel of the campus.
"I chose Southwestern because the coaches, and whenever I started talking to them and whenever they invited me up to campus I got a feel for what it's like up there, it all just felt really right to me," Crespo said.
Will Thompson came across Southwestern when his brother visited there 2 years prior and he liked the campus. Following his visit there he soon realized that he really wanted to play lacrosse at the next level.
"I chose this school to play  Division 3 Lacrosse and graduate in a Degree of Business.
I'm most excited to see how much better we can make the team as a group of 5 players all coming from the same school," Will Thompson said.
Austin Alvarado was offered the best degree plan for himself at Southwestern, which allowed him to get a well rounded education. The lacrosse coaches reached out to him to play and it was very exciting for him.
"I'm most excited to get together with my four best friends and play lacrosse and I'm really looking forward to that," Alvarado said.
Prior to his commitment and signing, Tyler Johnson was considering offers from Wagner College and Southwestern.  He ultimately chose Southwestern because they presented a better opportunity and a more thorough scholarship.
"After visiting Southwestern they gave me the home environment I was looking for, the coaches were really nice, and just kind of the area gives me a lot of opportunities for internships since it's so close to Austin. After talking to the coaches and seeing what I like and finally submitting where I wanted to go, I decided to go to Southwestern," Johnson said.
Moving to an NCAA Lacrosse team is a big step for the five lacrosse players. They are granted facilities, weight rooms, and medics of their own.
"Finally having the facilities that I'm able to become the best player I can be is awesome since lacrosse is a club at Langham, and we're not allowed to use the weight room and have these nice facilities. So once I get into an actual NCAA sponsored school,  I'm able to use the weight room and the medics to just better myself as an athlete," Johnson said.
From being best friends outside of lacrosse, to hanging out every weekend, and playing on the field with each other these players are constantly together. Going to the same college is just the next step in their lives as friends and teammates.
"It's one of those things that we've always talked about. It's just hey what if we all ended up going to school together and it's just one of those feelings that we all made it, and we all wanted the same thing and it just feels amazing to play with them," Sitterly said.