2019 Lobo Football Preview and Predictions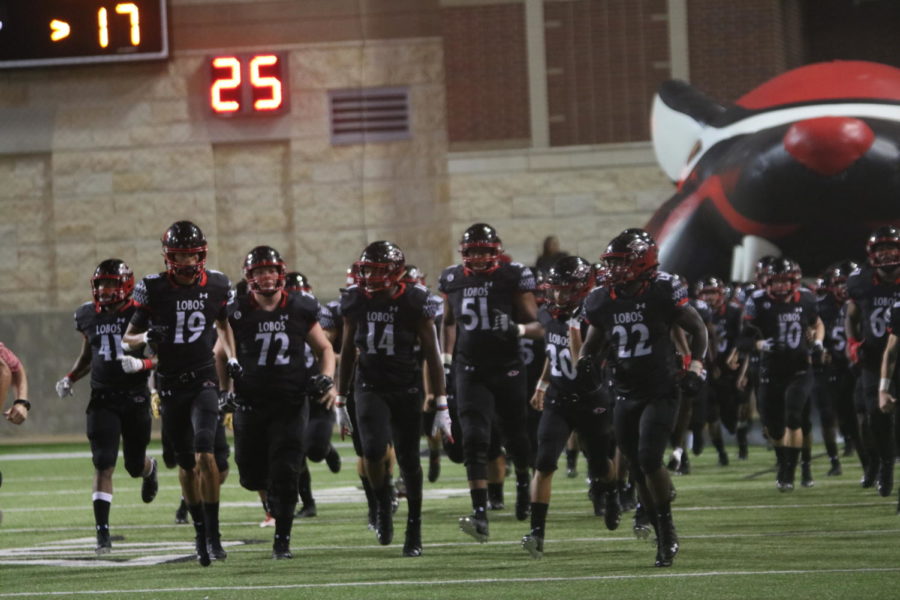 As the weather cools down and Summer turns to Fall, it's finally time. Lobo Football is back. The Lobos return 9 starters from a 6-5 season and a 1st round play-off exit, and enter the year with something to prove.
Week 1- vs Klein Oak, Friday Aug. 30, 7:00 at Cy-Fair FCU Stadium 
The Lobos kick-off their 2019 campaign against a familiar foe in the Klein Oak Panthers. The Panthers are led by 4-star Corner Dwight McGlothern Jr. and 4-star Quarterback Montrell Bolton. This game turned into a wake-up call for the Lobos as they lost to a more talented team.
35-17 Panthers 
Week 2- vs Fort Bend Bush, Thursday Sept. 5, 7:00 at Mercer Stadium
A year ago the Lobos lost a heart-breaker to the Broncos 23-20 in a dramatic finish. This year will be different as the Lobos don't look past the Broncos and put them away handily. 
34-20 Lobos 
Week 3- vs Cy-Ranch, Thursday Sept. 12, 6:30 at Cy-Fair FCU Stadium 
The Lobos start district play in 2019 against the reigning district champions. The past few meetings have all been thrillers, and this meeting should be no different. In the end the Mustangs- led by 3-star Running Back Willie Eldridge- will win off a defensive stop in the final minutes. 
31-24 Mustangs
Week 4- vs Cy-Woods, Thursday Sept. 19, 6:30 at Cy-Fair FCU Stadium
The Lobos lost a barnburner to the Wildcats a year ago 41-39 off a 46-yard field goal as time expired. Although the triple option offense will be difficult to prepare for, the Lobos will avenge their loss from a season ago in a close one.
38-28 Lobos 
Week 5- vs Bryan, Friday Sept. 27, 7:00 at Merrill-Green Stadium
A year ago the Bryan Vikings went 4-6 and lost by 14 to the Lobos; this year will be different with Sophomore sensation Quarterback Tanner Murray being eligible to play leading the Lobos to a solid victory. 
31-10 Lobos 
Week 6- vs Tomball Memorial, Saturday Oct. 5, 6:00 at Ken Pridgeon Stadium 
A year ago the Lobos traveled to Tomball Memorial and grinded out a win against a good Wildcat team. This year playing on a Saturday night, the Lobos wont. The odd setting will throw the Lobos off just enough for the Wildcats to edge out a win. 
28-24 Wildcats 
Week 7- vs Bridgeland, Friday Oct. 18, 7:00 at Cy-Fair FCU Stadium 
Fresh off a bye with 2 weeks to prepare the Lobos should be ready for a talented Bears team and will cruise to a win.
42-21 Lobos 
Week 8- vs Cy-Lakes, Friday Oct. 25, 7:00 at Cy-Fair FCU Stadium 
It will be Homecoming Week, and the team will be motivated. The stands will be packed and the fans will be loud. The Lobos will light up the scoreboard trouncing the Spartans by a wide margin. 
49-28 Lobos 
Week 9- vs Cy-Park, Saturday Nov. 2, 1:00 at Cy-Fair FCU Stadium
Cy-Park is coming off an 0-10 season and most of the games weren't close. Now in their second varsity season they figure to be in a similar position as last year. The Lobos will dominate the game from start to finish winning easily.
63-7 Lobos 
Week 10- vs Cy-Springs, Friday Nov. 8, 7:00 at Cy-Fair FCU Stadium 
In the final game of the regular season the Lobos take on the Panthers with a play-off spot already locked up and the starters resting, the Lobos will win by a fairly small margin despite the end result never being in doubt.
27-14 Lobos 
Overall, I believe that the Lobos will have a bounce back year finishing the regular season second in district at 7-3 with the potential to make a successful run in the play-offs.