Making Cheer History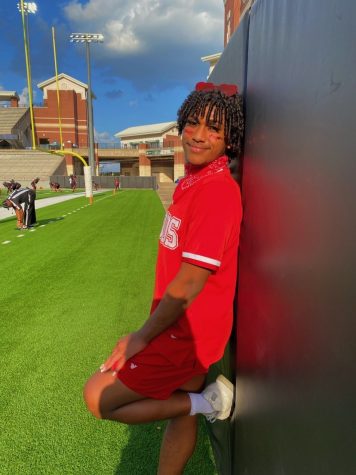 Senior Siam Watkins made cheer history this year by being the first male captain of the varsity team. Though the position's title did not come easy, Watkins strived and put in the hours to be where he is at.
"I worked really hard to be captain and I didn't know if I would get the position or not," Watkins said. "What really made me happy about the position was the team and how much they welcomed me as captain."
Watkins did not let the authoritative title change him and his team.
"Even though I am captain, it doesn't mean that I am different or higher than the rest," Watkins said. "I talk to everyone and make sure they all feel comfortable."
Although Watkins looks effortless on the field, he had a few difficulties when he first made the team.
"There were certain motions I wasn't able to do at first because I wasn't used to that type of movement," Watkins said. "I used to be in football so the transition from the motions of football to cheerleading was really different."
The captain title comes with its struggles and sometimes can be overwhelming.
"There have been times where I feel like I can't do this anymore, but obviously it's just a mental battle where you want to give up but you know you can't," Watkins said. "It's just whenever I am really overwhelmed I have to take a step back, and then I can come back and fully be a cheerleader." 
This is Watkins' last year and he will be passing the torch to the next captain. He gave advice on how to be a good leader. 
"Remember that one person does not make a team, but everyone makes a team," Watkins said. "Everyone is different and they all bring something different to the team."
Cheer played a big role in Watkins' time at Langham and the family he made in the team.
"I care for all the girls like I raised them in a way and all that I have overcome and accomplished has come from the cheer team pushing me," Watkins said. "I am honestly so grateful for everyone on the team, words can't even describe."