Water Polo Season Review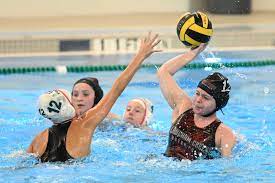 This was a historic year as it was the first that water polo was a UIL sponsored sport, and it was a successful first year for the water polo teams.
"I'm proud of their effort, we've always had a club but this year was the first year we were sanctioned by the UIL," Head Coach David Dean said. "This was a better opportunity for sure and will be better next year."
The boys and girls water polo teams made this an extra special historic year as they both qualified for playoffs.
¨I'm impressed with how we've grown together to work as a team, like working on each other's strategies and understanding the game,¨ senior Sophia Washington said.
¨I feel like we went from not knowing each other that well to like, really coming together as a team, and learning to work together to make regionals," senior Nathan Lawson said.
With this being the first year of UIL Water Polo there were going to be many obstacles with these kids never playing together, but ultimately they would end up figuring it out as a team.
"I think a lot of it was just psyching ourselves out, we thought we were worse than we actually were, and so we overcame this and just wanted to win the positive ones," Lawson said.
This year was definitely a special year for both teams, and that contributed to the very strong bond that they had together.
"We had a strong bond, I would also say we were very dedicated because we understood each other and worked hard together," Washington said.
Ultimately now for the water polo team the mission is to look toward the future and keep building this new water polo squad.
"Yeah, I think we will get better right now. We have a whole year to get ready for the second season, so we can be ready for August 1st when we start the new season," Dean said.
 Both boys and girls water polo squads made the playoffs with the boys finishing with a record of 6-9 and finishing fourth in the district, and the girls finishing with a 8-5 record and third in the district.