Jordan Washington Football Feature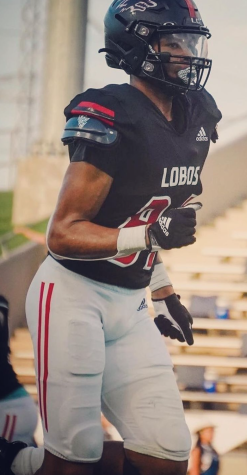 As the 2022 Football season comes to an end, Jordan Washington had impressive stats, and an overall great showcasing season. 
  "I have to be honest, it was a pretty good season, I believe I contributed a lot this year," junior Jordan Washington said. "It didn't go the way it was supposed to go but it was overall just a really great season."
  Jordan finished his 2022 season with 20 catches, 574 offensive yards, and seven touchdowns. These stats awarded Jordan with First team all-district accolades. 
  "I'm lucky and blessed to have these opportunities, I feel like I put just enough work to where my work paid off and it gave me the blessings that I was given," Washington said. 
  Jordan received football scholarships for his talents on the football field, even receiving an offer from Iowa State which is in a power 5 conference. 
   "I want to achieve 1000 yards and 10 touchdowns, and more catches next season," Washington said. "Things I want to improve on next year is blocking, get stronger on that, get in the weight room a bit more, and just take it to the next level." 
Jordan is a junior this year, he still has another year to play high school football. He has another season to improve on his ability on and off the field, and become an even better player.
   "Jordan was a big part of our success this year, he was a major contributor to our offensive strategy this season," Coach Hannan said. "We're extremely proud of Jordan, and can't wait to see him next season".