The Inside Scoop on Langhamcreek.crushes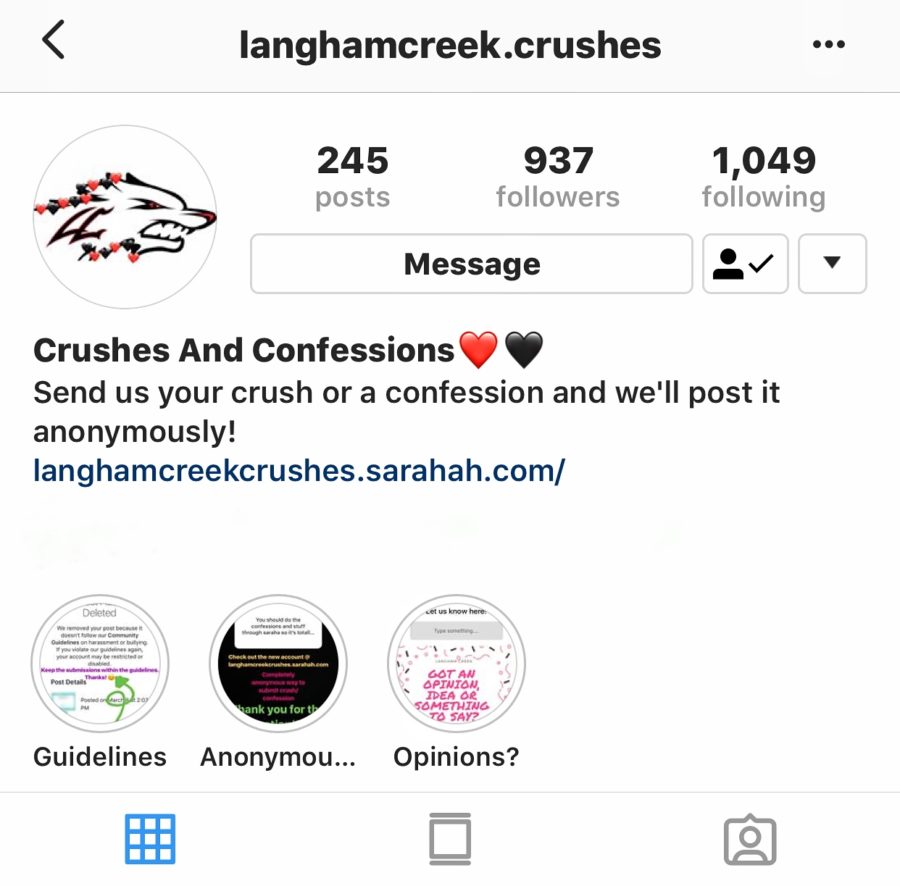 This semester has been a wild one, but one of the best things to occur has been the recent appearance of @langhamcreek.crushes. This amusing Instagram page is exactly what it sounds like. Students send in their crushes and confessions which get posted anonymously.
Students have been dying to discover the identity of this page owner as they too remain anonymous. Although we couldn't pry their identity out, we learned a lot about where the inspiration for such a page came from through direct messaging on Instagram.
"Part of the influences came from Cy-Falls and their IG page but I also wanted an outlet for students at Langham Creek to anonymously reveal crushes and confessions," @langhamcreek.crushes said.
Many students have been enjoying the confessions so much so it has become a game between groups of students. Hallie Thomson checks regularly, along with a couple of her friends, to see if they can guess who's behind the confessions
"Whoever they are, I'm glad they made this account," Thomson said. "At lunch we just scroll through and look at all of the posts. You can tell that most of the time they are by people's friends, but still, it's pretty funny."
Although students seem to mostly be enjoying the aspect of posting anonymous messages about their friends, the creator of langhamcreek.crushes believes that the account took off for a very different reason.
"I believe it gathered a large audience because of students' desires to learn what others had to say," @langhamcreek.crushes said. "The attention it has garnered provides a good reason to continue to run this accoun."
Even though the account was made for the sole purpose of being an outlet for students burning crushes, even the owner enjoys receiving and posting some of the more silly posts.
"My favorites are honest crushes and confessions,"  @langhamcreek.crushes said. "One example would be the person who collected Apple Crisp Chips from school food for college."
But the fun won't last for long. The creator of this account told us that after school gets out in May, the account will be deleted and their identity revealed.
"I certainly didn't have any expectations when this account was created, so I'm planning to run the account till school lets out in May," @langhamcreek.crushes said.
So Lobos, if you have a confession or crush you have to get out, make sure you message the langhamcreek.crushes Instagram before the time runs out.