Lacrosse Community Fights Strong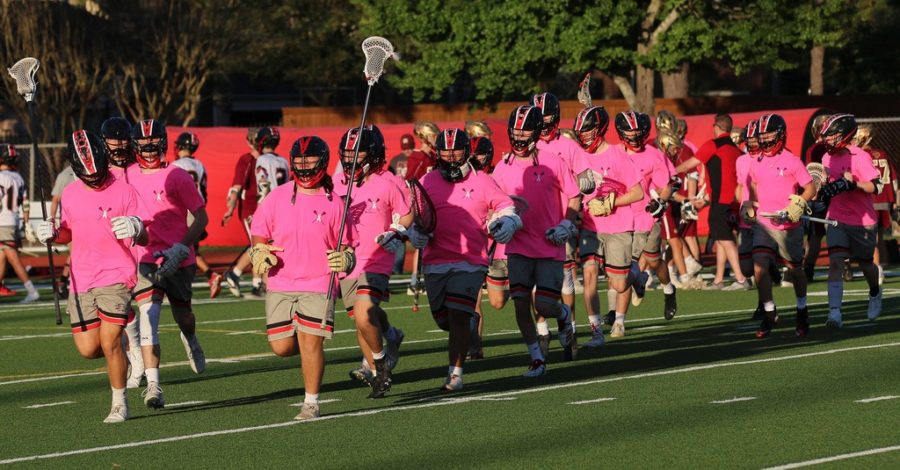 Last Thursday the Lobo Lacrosse teams opened up district play by dominating Cy Woods JV winning 8-4 and Varsity 16-6. The Lobos and Wildcats usually are district rivals that meet up every season for the most exciting game of the year. However, this year was different, with every Lobo fan and player supporting someone special in the Wildcat family.
    Cy Woods Head Lacrosse coach Matt Wagner's wife was recently diagnosed with cancer. In response, our Langham Lacrosse coach, Coach Hunt, thought it would be a good idea to come out on the day of the game wearing custom pink shirts to support the Cy Woods coach's wife, Kate Wagner. They walked up to players, parents, and even students wearing the shirts saying  #TeamKate. It was surprising for Mr. Wagner to see other teams caring for him and his wife.
"Matt, the Cy Woods coach, is a good friend of mine, and lacrosse is like a family and I like supporting others," Coach Hunt said. "It wasn't so much about the surprise, rather the thought of letting him know as an organization instead of as individuals." 
Having Langham, Cy-Woods, and Bridgeland being the only schools in Cy-Fair to have a lacrosse team, there are intense rivalries. This year rather being more than rivals, the LC Lacrosse team came together to assist Mrs. Wagner.
"It felt good because for once we weren't just enemies," freshman Christian Venzor said.
The game was very special on both sides for JV and Varsity. The JV team had lost to Cy Woods in overtime at a tournament at Texas A&M. But then after coming out with a win, the team was super psyched.
"Memorable game because of the support that we as a team showed for a single person as we truly came together for the Cy Woods Lacrosse community," senior Sean Sheikh said.
The Varsity game started off as a hotly contested match, but in the 3rd quarter the Lobos pulled away scoring 8 goals to create a comfortable lead that would be sustained till the end. This was a good first impression on the district season to go on the road for the state playoffs.
"We got to support a great cause and we came out with a win," Venzor said.